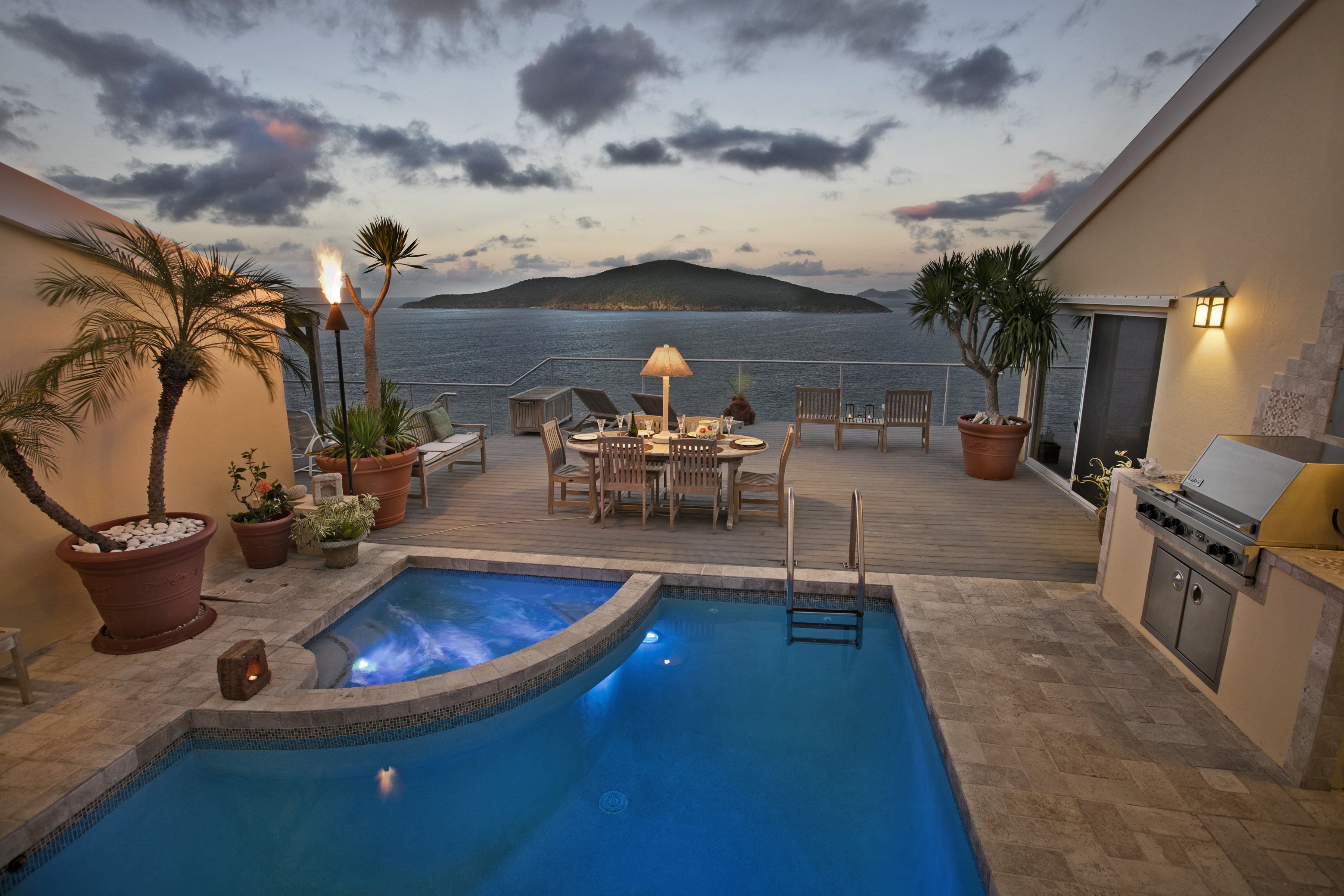 The hub of your St Thomas villa rental is the 13′ x 21′ private swimming pool which is 4 feet at the shallow end and nearly 7 feet at the deep end. The deep (30″) hot tub is built right into the pool. More…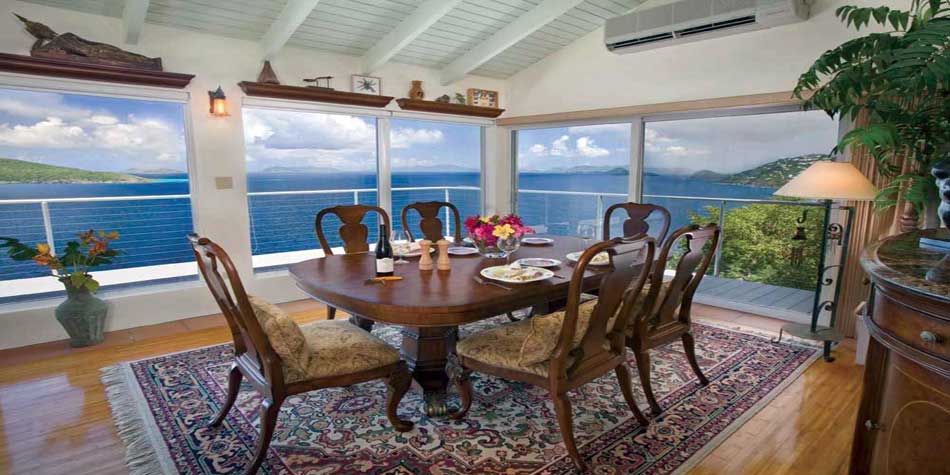 There are three places to dine at Villa Papillon. Indoors surrounded by a 180 degree view through windows on three walls, outdoors under the stars in the courtyard by the pool and a covered outdoor area. More…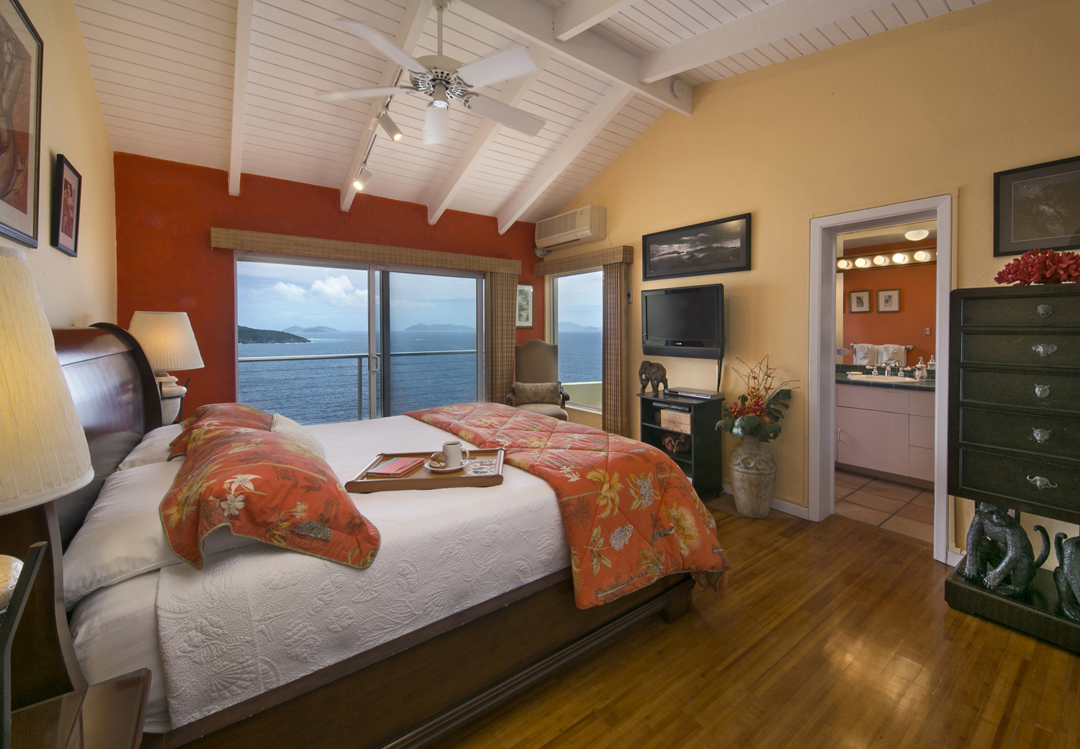 The Villa Papillon has three luxurious bedrooms – each and every spacious bedroom has a dramatic ocean view. The lower bedroom has French terra cotta tiles and a king bed with luxurious Sealy mattress. More…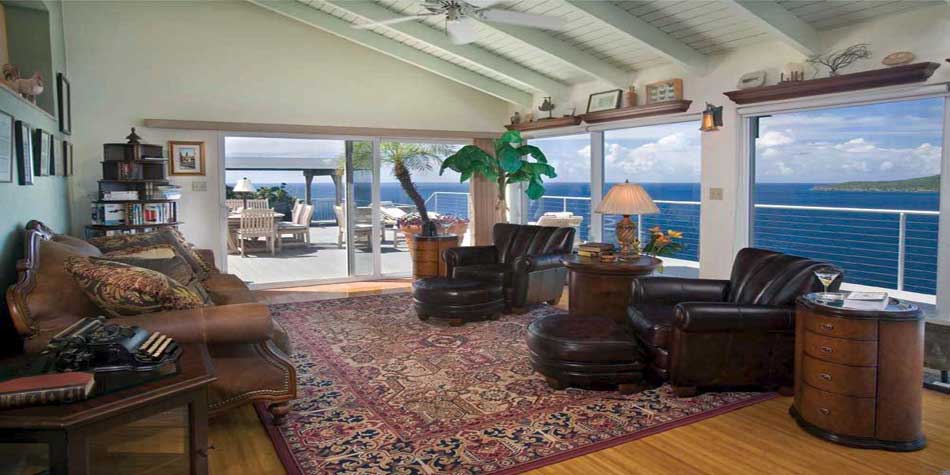 Breathtaking. It's what every single guest has said. And you can see why. The three living room "walls" are all glass, providing a 180 degree ocean view ,floor to ceiling view. More…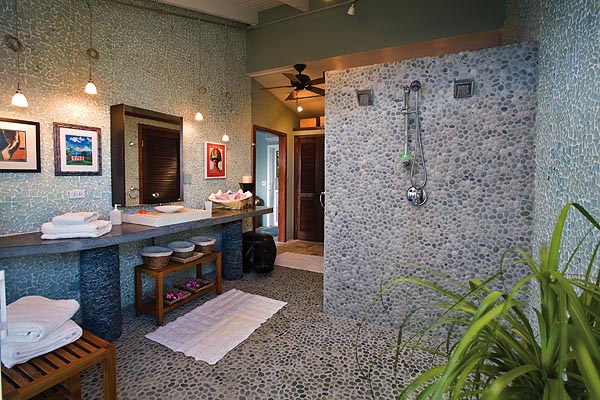 The stunning rock and glass bathroom (shown below) is found in the Courtyard Suite building. To shower in here is complete bliss – the 8′ wide glass sliding doors gives you the most spectacular view you'll ever get while taking a shower.  More…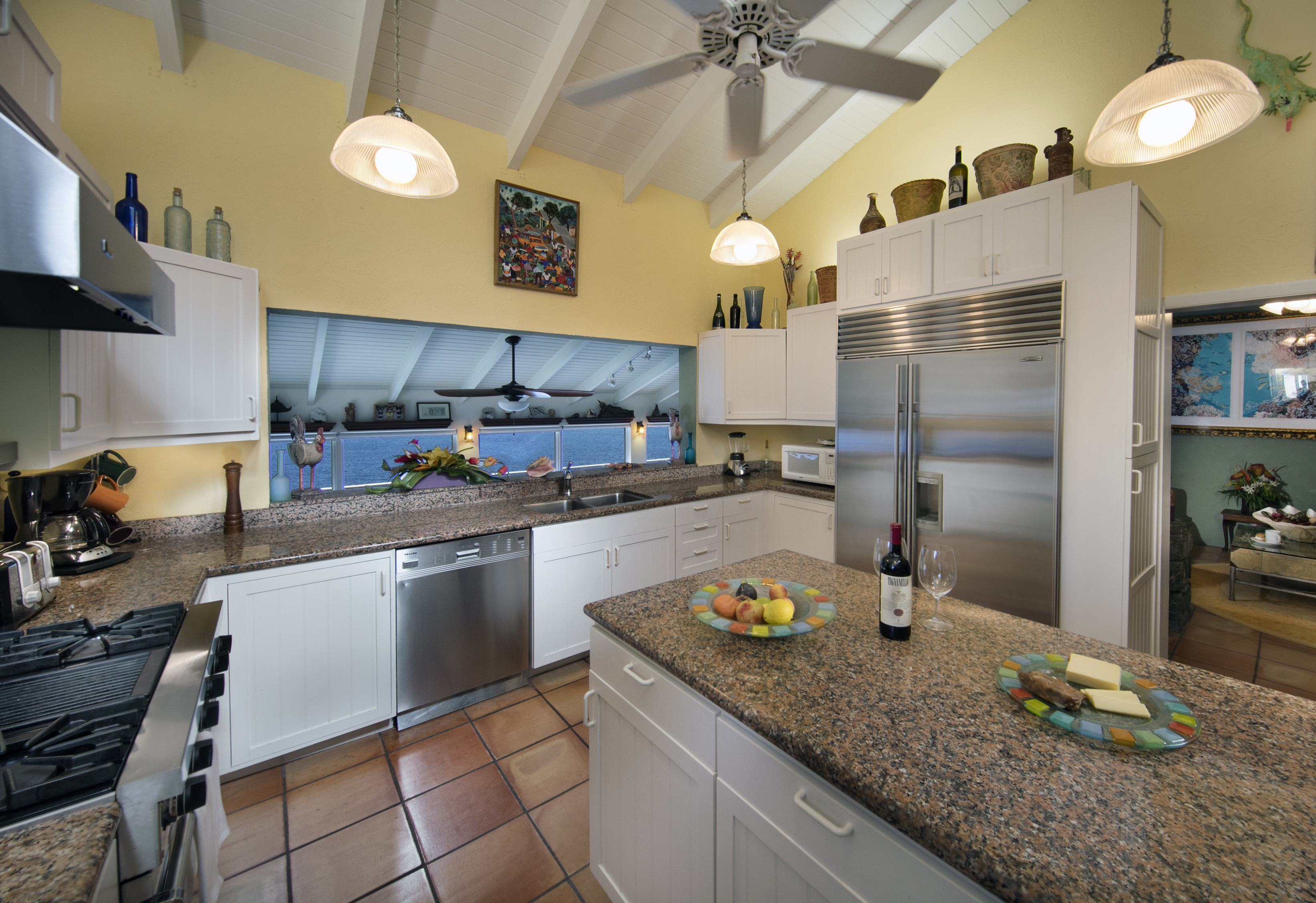 You'll find only top end equipment here in your St Thomas vacation rental villa, such as the Viking professional gas range with indoor grilling, 48″ Sub-Zero stainless steel fridge with ice maker and water dispenser. More…
View Villa Papillon in 3D. Take The Virtual Tour Below!
St. Thomas Virgin Islands Vacation Getaways At Villa Papillon!
Looking for the PERFECT CARIBBEAN DESTINATION? One of the world's most beautiful beaches, Magen's Bay, in St. Thomas, USVI is just around the corner from Villa Papillon.
The Villa Papillon in St. Thomas US Virgin Islands is situated within a small, exclusive, gated neighborhood called Red Rock in Estate Peterborg. The Peterborg peninsula separates the tropical Atlantic Ocean and Magen's Bay. St. Thomas is part of the U.S. Virgin Islands and is located 1,075 miles east/southeast of Miami.
Getting to St. Thomas USVI By Air
St. Thomas is easily reached by air from anywhere in the U.S. It is a 3 1/2 hour non-stop flight from New York City; 4 hours non-stop from Philadelphia; 3 hours non-stop from Atlanta; and 2 1/2 hours non-stop from Miami. Many airlines offer regularly scheduled flights to St. Thomas. Other major airlines fly in San Juan, Puerto Rico and convenient commuter airline services connect San Juan to St. Thomas.
Historic town of Charlotte Amalie in St. Thomas
The famous St. Thomas port town of Charlotte Amalie is located on the south side and has great duty-free shopping and world class restaurants.
St. Thomas is distinguished by a rugged mountainous terrain and numerous harbors and anchorages with sandy beaches along the shoreline. The island is roughly 12 miles long by 3 miles wide.
Testimonials
Don't Just Take Our Word For it… See What Others Are Saying!
I had the pleasure of staying at this wonderful Villa for the past seven days. All I can say is the pictures are nice but in person you will be mesmerized!!! Linda is an absolute wonderful host and she covered every detail that you could think of starting with a welcoming basket in the fridge. Thanks Linda, you made my first stay in the VI one of my most memorable experiences. We stayed August 2016, traveled as a couple.
JHarris1971
Loved the accommodations at Villa Papillon. Views are amazing. Great location for accessing Magen's Bay and restaurants. Enjoyed having separate spaces and yet common areas to gather. Pool was usually "refreshing" but hot tub provided warmth when needed. Nice basket of snacks but surprised to find very little in way of staples as in other villas we have rented. AliG
We stayed at Villa Papillon for 10 glorious days for our inaugural trip to VI and can't brag on Linda's home enough. The pictures don't lie as the views from VP are stunning and the house had all the features you could want. Place was extremely private (exactly what we were looking for) and it was hard to leave the…
"read more"
on Trip Advisor!
happilyretired2016
Let's Get Social!
Drop us a line anytime, and we will respond to you as soon as possible!
Contact Us